NSE
23rd

National N Scale Convention
SACRAMENTO, CA

Wednesday

2

4th

-

Sunday 28th June

, 2014
Convention News & Views
by Dick Ollendorf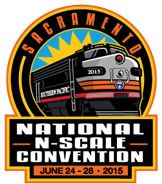 The Convention is over; we hope that everyone had a great time! We have received hundreds of photographs and we have posted links to them below. We hope you enjoy them.
Here is also three videos to give those that did not attend an idea of how much fun we had! The first is our train ride at Railtown 1897, the second a speeded up video of the Swaparama set-up and the third is the video that was played at the Convention Banquet.

Products offered for sale on these web pages are recommended for ages 14 and up
.
Copyright© 1993-2017 N Scale Enthusiast®

All rights reserved
National N Scale Convention is a Registered Trademark of the N Scale Enthusiast®
Last updated August 1, 2017