1

4

th

Australian

N Scale Convention
BRISBANE

,

Queensland, Australia
Thursday

9th

-

Sunday 12th

April 2015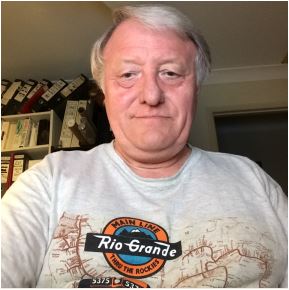 Convention Wash-up
by
Dennis Turner
After two years of planning the Brisbane N scale convention has been and gone. It started with the Micro Trains Welcome reception and Dennis Murphy's recollections of his life driving trains on American tourist railroads. It was followed by 3 days of clinics and layout visits and the official Banquet on the Saturday night which included model contest awards and featured a talk by David Mews, the curator of the Ipswich Rail Museum and ended with our super raffle. In all we received around 100 donated prizes from our sponsors.
We took over 800 photographs and these can be viewed by clicking on the following groups:
Credits for the photographs go to Stephen Ord (Registration, Banquet, Layout tour and Traders & Displays), James Costello (Port Tour & Banquet), David Bromage (Competition models), Duncan Cabassi (Layouts), Glenda Parsons (Partners Tour) and Dennis Turner (Ipswich Tour). They may be downloaded, free of royalty, provided they are for personal use or to promote N Scale modelling.
A complete list of all of the Model Competition categories and winners, together with photographs of their models can be viewed on the Brisbane convention legacy site by clicking here.
The following Clinic presentations are also available for download from the Brisbane convention legacy site by clicking here.
An Introduction To JMRI Scripting (3.5 MB)
An Introduction To Layout Automation With JMRI Scripting (1.2 MB)
Crandic Automated Traffic System (149 KB)
DCC Wiring Experiences (15.4 MB)
Locomotive lighting using surface mount devices (501 KB)
Sandwich and Spline Baseboards (17.5 MB)
Super Detailing Locomotives and Freight Cars (13.4 MB)
T-TRAK and its popularity in Australia (11.5 MB)
Understanding and Using LEDs (142 KB)
N-Land Pacific - A FreemoN rail model = A FreemoN role model (2.4 MB)
What it Takes to Make a Mass Produced RTR Loco (11.1 MB)
Goulburn to Crookwell Branch Line

Prototype to Model Case Study (2.9 MB)
Nearmap images (126 KB)
Pan images (313 KB)
These presentations are provided for personal use only and copyright resides with the respective authors/presenters.
We would like to acknowledge our appreciation of the support we have received from N Scale Enthusiast over the last two years and to thank the following sponsors for their support and donations:
Micro-Trains Line Co.
N Scale Supply
Digitrax, Inc.
N Scale Enthusiast
Atlas Model Railroad Co
Intermountain Railway
Fox Valley Models
Bluford Shops
BLMA Models
Lowell Smith Signature
Wm. K. Walthers, Inc
7idea Productions
Richmond Controls
Feather River Trains
Zimbler Pty Ltd
Custom Hobby Decals
Phil Badger
Peter Boormans Workshop
Ted (Teditor) Freeman
General Dynamics
NMRA Australasia
Yabulu Trading Post
Laurie & Glenda Parsons

Products offered for sale on these web pages are recommended for ages 14 and up
.
Copyright© 1993-2017 N Scale Enthusiast®

All rights reserved
National N Scale Convention is a Registered Trademark of the N Scale Enthusiast®
Last updated August 1, 2017