14th

Australian

N Scale Convention
BRISBANE

,

QLD
Thursday

9th

-

Sunday 12th

April 2015
Australian

Convention

News

by Dennis Turner

<![if !vml]>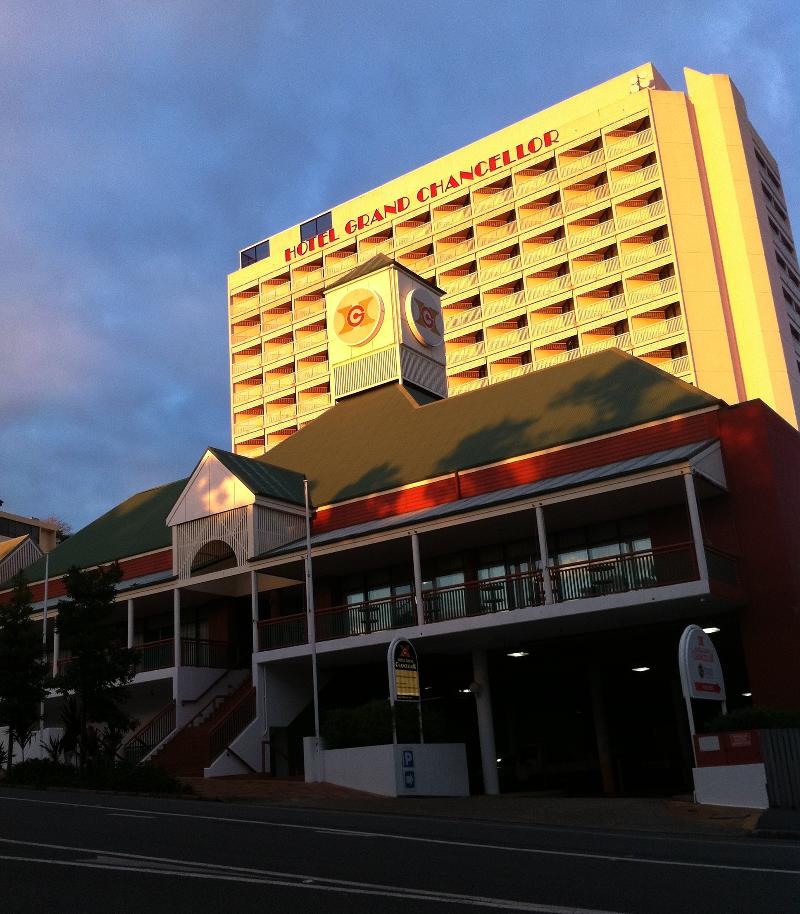 <![endif]>
We Have a Venue . . . the
HOTEL GRAND CHANCELLOR
23 Leichhardt St, Brisbane, QLD 4000
Situated on the highest point on Brisbane's Central Business District is the Queensland's capital 4.5 star Hotel Grand Chancellor Brisbane.
The Hotel Grand Chancellor Brisbane is an engaging blend of contemporary design, modern amenities and gracious hospitality at a hotel dedicated to the perfect guest experience.
Hotel Grand Chancellor Brisbane offers 194 well-appointed 4.5 star rooms with individual balconies, and spectacular views of the Brisbane city, river or Roma Street Parklands. This boutique Brisbane accommodation affords commanding views of the city skyline, surrounding mountains or Brisbane River. Inside, modern style and intuitive service lay the groundwork for a relaxing corporate trip, family holiday or weekend getaway. Step outside the doors, and the best of Brisbane awaits. A short stroll will take you into the heart of the city.
Recreational facilities are located on the rooftop level and include swimming pool, spa and fully equipped fitness center. Undercover secure car parking is provided to hotel guests and conference delegates will be able to park at a flat rate of $10 per day (compared with up to $50 at other venues in the city).

<![if !vml]>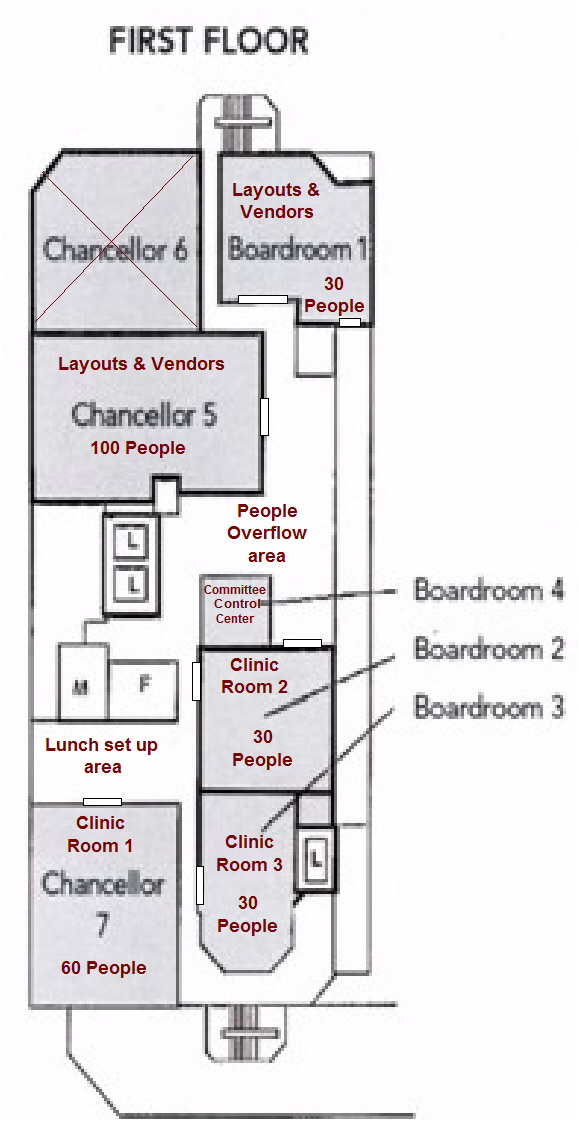 <![endif]>FIRST FLOOR
Convention Area
The Convention Committee has booked two rooms (Chancellor 5 and Boardroom 1 on the plan) for all four days of the convention and three rooms (Boardrooms 2 and 3 and Chancellor 5 on the plan) for clinics and other activities on the Friday and Sunday.
A detailed timetable of events will be published in a later newsletter once they are confirmed. They will follow a similar pattern to that of the Melbourne 2013 convention, but we will have activities on the Thursday and we are hoping to find a sponsor to host a "Welcome Reception" on the Thursday evening.
There is plenty of room outside of these rooms for networking and socialising during morning and afternoon tea and lunch breaks. The entire area to the right of the plan opens out onto a balcony that overlooks the bar area below.
As we have booked all but one of the rooms on the floor we would expect to have the area pretty much to ourselves during the convention.
The Banquet will be held on the Saturday night in the ballroom on the ground floor. For our American friends we should comment that our first floor is your second floor.
<![if !vml]>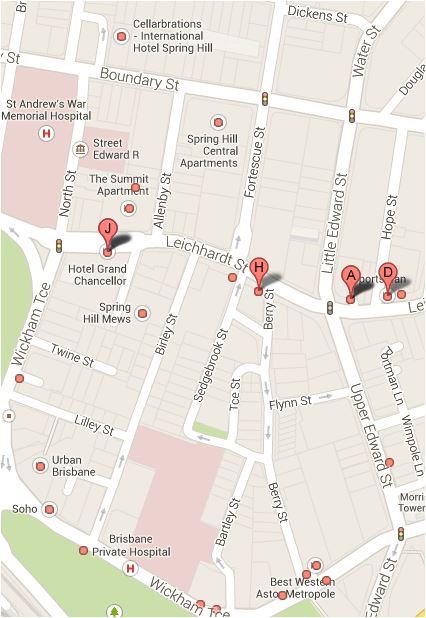 <![endif]>LOCATION, LOCATION,
LOCATION
Hotel Grand Chancellor Brisbane is in a great location, being only 16km (about 18-24 minutes depending on the traffic) by taxi from Brisbane International Airport and 500m (about a 15-20 minute walk) from Downtown Brisbane and Queensland Rail's Central Railway Station.
There is also a regular "Airtrain" which runs directly from the Domestic and International airport terminals to Central Railway Station. However as it is an uphill walk to the hotel we would not advise carrying heavy suitcases, unless you are in training.
Unfortunately, although we negotiated a good package for the hire of the convention rooms, we were unable to secure any special rates for their hotel rooms. The rates they quoted us for a deluxe standard room are $215 AUD for Monday to Thursday and $150 AUD for Friday to Sunday.
However on checking a number of web sites we have found "booking.com" offering $195/$160 and "whatif.com" offering $210/$145. However the best deal we found was on the Hotel Grand Chancellor's own website at http://www.grandchancellorhotels. com/au/brisbane/ where they are quoting $185/$140.
But the really good news is that there up to 21 other accommodations (including hotels, motels, motor inns, apartments and bed & breakfast establishments) within minutes of the Hotel Grand Chancellor (see all of the red dots on the map) that offer a range of rooms from budget to apartments. So whatever your budget you should be able to find accommodation very close to the convention venue to suit your requirements.
To duplicate the map go to Google Maps, search for "Hotel Grand Chancellor Brisbane" and then change the search criteria to "Hotels" - all of the red dots will display and you just need to click on them to find out the accommodation details.
We will be publishing more details on nearby accommodation options, including the nearest caravan & trailer parks, on our web site in due course.
<![if !vml]>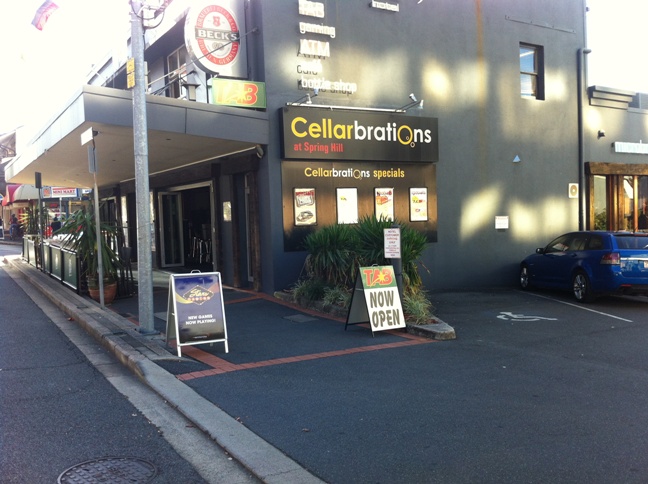 <![endif]>SHOPS & AMENITIES
* Coffee bars
* Restaurants
* Pubs
* Convenience stores
* Mini markets
* SUBWAY takeaway
* Post office
* Medical centre
Less than 5 minutes walk from the Hotel Grand Chancellor down North Street (see map) you will find Boundary Street where there is a wide range of establishments within just the first three blocks. Alternatively if you head in the other direction you will discover the whole of Brisbane's CBD and every sort of shop or restaurant you are looking for.
FLYING from the USA direct to Brisbane
If you are planning to fly directly from the USA to Brisbane, Virgin Australia and Qantas offer direct flights from Los Angeles.
Virgin Australia fly to Brisbane every Monday, Wednesday, Friday and Saturday and Qantas fly's every day. The flight time is just over 13 hours to Brisbane and 14 hours to return to Los Angeles.
Both airlines offer a seat option called "premium economy" which is well worth considering for such a long flight. The cost is only 50% greater than standard economy but you travel in a seat 50% larger than the standard seat and receive a much higher standard of personal service. Business class is also an option with both airlines, as is 1st class with Qantas.
Virgin Australia has partnership arrangements with Delta Air Lines, Virgin America and Hawaiian Airlines and Qantas is a member of the "Oneworld Alliance" which includes American Airlines. If you are a frequent flyer member of any of these airlines you can take advantage of the partnerships to gain a significant number of points of flying miles or use your points to fly to Australia.
FLYING from the USA direct to Sydney
If you are planning to start your Australian holiday by flying into Sydney you can choose between Virgin Australia, Qantas and United Airlines. Each airline fly's from Los Angeles daily.
FLYING from the USA via New Zealand
If you would like to visit New Zealand on the way to Australia Air New Zealand offer daily flights from Los Angeles to Auckland, NZ. It is a 4 hour flight from Auckland to Brisbane.
Australian flying distances to tourist destinations
Australia is almost as large as the USA (7.6 sq. km vs 9.6 sq. km) and it takes as long to fly coast to coast. However our population is very much smaller with only 2.66 people per sq. km compared with 31.27 in the USA.
Flying times from Brisbane to other Australian destination are:
| | | |
| --- | --- | --- |
| Sydney, NSW : 1.25 hours | Melbourne, VIC : 2.25 hours | Adelaide, SA : 2.5 hours |
| Cairns, QLD : 2.25 hours | Alice Springs, NT : 3 hours | Darwin, NT : 4 hours |
| Perth, WA : 5 hours | Queenstown, NZ 3.5 hours | Hobart, TAS : 2.75 hours |
Cairns is in North Queensland, close to the Great Barrier Reef. Alice Springs is the closest city to Uluru (Ayers Rock) but it is still a six and a half hour drive away.
Darwin is the gateway to the World Heritage listed Kakadu National Park where visitors will experience pristine landscapes that have changed little over thousands of years, and an ancient Aboriginal culture that dates back more than 50,000 years. The Park is home to over 1,700 plant species, a quarter of all Australian freshwater fish species and over one third of Australian bird species.
Perth is the start point for exploring the Kimberleys, one of the world's last great wilderness areas covering an expanse of nearly 423,000 sq. km. and with fewer people per square kilometre than almost any other place on Earth. However the Kimberleys is still a further 2.5 hours flying time from Perth, or 10 hours driving time from Darwin.
Queenstown is a great starting point to explore New Zealand's South Island.
The town sits on the shore of crystal clear Lake Wakatipu among dramatic mountain ranges. The lake and mountain landscape make Queenstown suited to all kinds of adventures - especially during winter. Known for its spectacular skiing and snowboarding; the region turns into a winter sports paradise from May to August.
Activities such as bungy jumping, sky diving, canyon swinging, jet boating, horse trekking and river rafting all year round.
Hobart is the capital of the Island of Tasmania, a little south of Melbourne, and home to many recognised world-class experiences, including 8 World Heritage listed sites and 13 National Heritage Listed sites.
Brisbane tourist attractions
We will be covering the many tourist attractions in Brisbane and the Gold Coast (Surfers Paradise) in later editions of our Convention Newsletters.
We look forward to seeing all of our American friends down under for a memorable convention experience.
Please direct any questions or comments to:

Dennis Tuner

+61 418 211 108

National N Scale Convention Brisbane 2015 Group Inc.
Copyright© 1993-2014 N Scale Enthusiast | All rights reserved | National N Scale Convention is a Registered Trademark of the N Scale Enthusiast® | Last updated 1st December 2013